TELEGRAPH
by Kaya Oakes
ISBN: 978-1-886350-43-4
Winner of the Transcontinental Poetry Prize (editor's choice, 2006)
80 pages, 6" x 9"
$14.00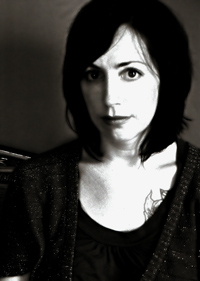 Kaya Oakes' work has appeared in Conduit, Volt, MiPoesias, Coconut, Shampoo, and many other journals. The recipient of awards and grants from the Academy of American Poets and the Bay Area Writing Project, she is also the senior editor of Kitchen Sink Magazine, and she teaches writing at the University of California, Berkeley.
"First books often offer versions of resurrection and Kaya Oakes' moving debut in TELEGRAPH charts a coming back to life with uncompromising lucidity and sorrow. In poetry rife with a bodily knowledge of the inherent "second-ness" of women's history, Oakes writes for the one and the many, Elektra her guide in the passage. "I wonder if this earth meant anything when I leant my form to it," the personae wonders in the final poem, and wonderfully, readers will find that it does, thanks to the earnest care of Kaya Oakes' making."
--Claudia Keelan

---------------------------------------

Elektra in the offices

Barefoot and ripe with new embarrassment
Elektra walks up three floors, trying not to sweat

Constriction in her thighs, those red bands drawn tight
and everyone who waited without knowing her was blind
would receive her in a spotless blackness reserved
for those who have forgotten seeing means we learned to feel
in blindness, too.

You ought to have gone with her, years ago.
That was when it was easier to feel through things
by pulling those last strands of someone's hair

and wrapping up your fingers with them, like a tourniquet.
Elektra cuts her hair in bathrooms where her shape is strange
where the windows stay shut, even on the hottest nights
nail scissors in half-drunk bathrooms where she doesn't live.

While shots go off outside, the scissors scrape and pull.
She climbs the stairs climbed so many times before.
She has no one on her side,

she has handwriting and flowers gathered
in a backyard where her scalp burned pink
while the afternoons fed anorexic evenings
and the day's fluorescence never dimmed;

unsure, unripe, unready. Still the pounding rocks her steps
as innocents file past her. One hand, one knife,
one brother burning somewhere in the city,
The man is upstairs, working,
or failing at his work and practicing his oaths.
But nothing stops the inevitable click
of the door that yields to business.